Visiting a foreign country is exciting, while every traveler hopes for the best when embarking on a journey, it is possible for unforeseen events to cause a trip interruption or cut your trip short!
In these circumstances of unexpected events, travel insurance helps by covering medical expenses and other eligible costs to get you back on track.
Medical expenses in countries like the USA are extremely high and unexpected injuries can lead to thousands of dollars in treatment costs.
But how does travel insurance work? How do you purchase coverage, and is it necessary for your upcoming trip?
If you are currently living in the USA and inviting your family to visit you from overseas, one of the concerns would be visitor insurance for parents visiting the USA.
After all travel insurance costs can be significant especially if you get comprehensive travel medical insurance coverage.
Let's find out.
What is Travel Protection?
Travel insurance safeguards against financial losses and other risks associated with unanticipated events that may occur while traveling.
Travel Insurance plans cover the trip costs and inconveniences associated with trip cancellation, delayed flights, canceled reservations, lost or delayed luggage, injuries, and illness.
You can purchase policies that cover a single reservation, an entire trip, or a particular time period. Policies can provide coverage for an individual, a family member, or an entire family.
Travel insurance costs may vary based on your age, the items covered, coverage limits, and duration of travel insurance coverage.
Some credit cards like affinity travel cards include travel insurance as an added benefit. Bear in mind, however, that these policies and coverage limits vary widely, so it pays to be aware of what coverage each travel card provides.
Categories of Travel Insurance
Insurance for travel can be broadly categorized into two types:
Trip Insurance: these plans lay more emphasis on the financial protection of your trip costs and medical insurance coverage may be secondary.
Travel Medical Insurance: these plans lay more emphasis on medical insurance coverage and medical costs and may include protection for your trip cost. Travel Medical Insurance policies are further segmented into Comprehensive and Limited Coverage plans.
 The definition of travel insurance will help you understand more details about the benefits.
Some of the risks covered under Travel Insurance are:
Accidental Death & Dismemberment – AD&D
Sickness or Injury medical expense reimbursement
Hospital Costs for medical care
Emergency medical evacuation in a life-threatening situation
Repatriation of Remains in case of death of Insured
Limited Temporary Dental Treatment for relief
Baggage delay
Lost baggage
Loss of passport and/or travel documents
Flight delay
Trip interruption coverage
Trip cancellation coverage
Missed connection/missed departure
Coverage for rental cars in case of a car accident
Medical evacuation to ensure you receive medical care
Cancel for any reason (trip insurance add-on option to your plan, at a cost)
How to utilize your travel insurance coverage?
Travel insurance functions similarly to other insurance policies. You acquire coverage for a period of time in order to protect yourself from certain risks.
When a covered event occurs, you need to file a claim with your insurance provider to request payment or reimbursement for your financial losses or medical expenses.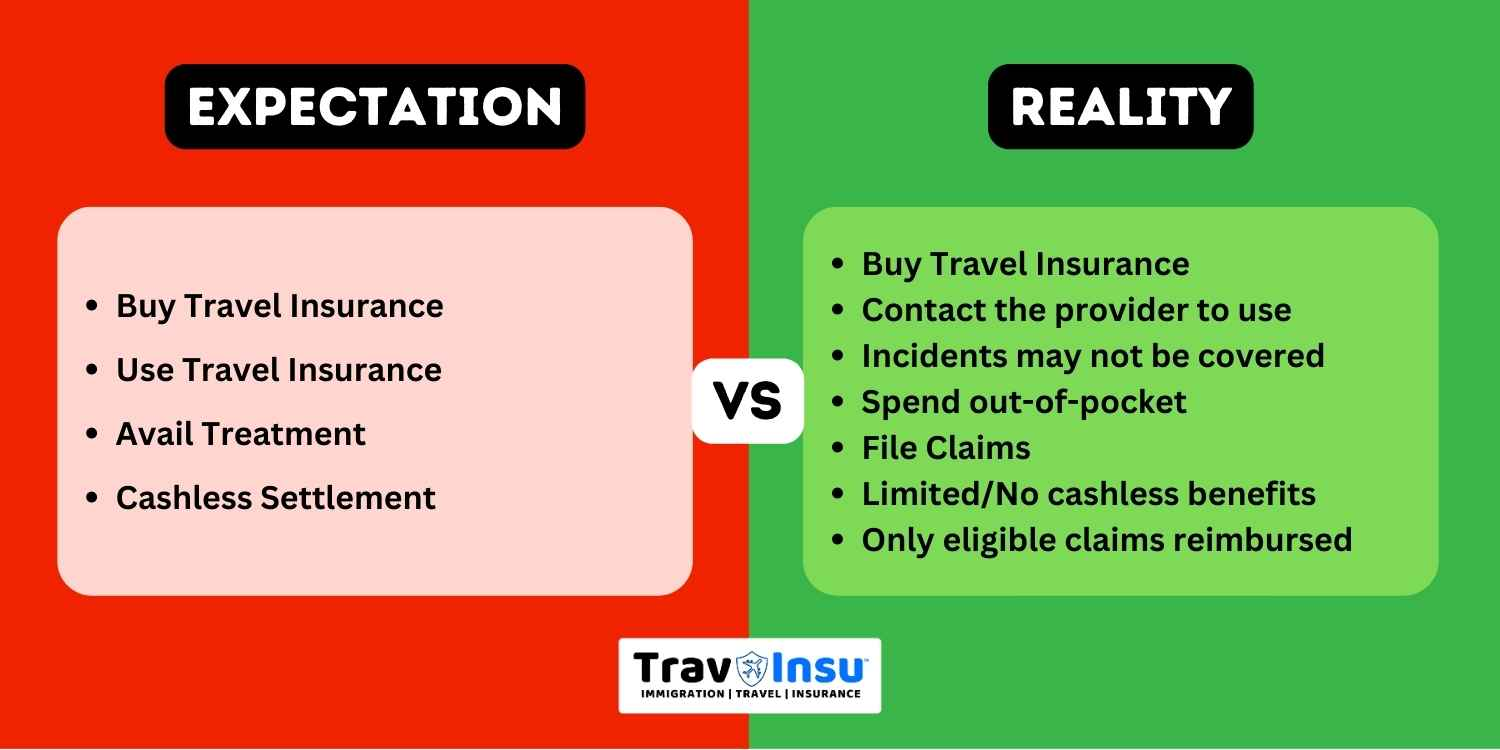 In most cases, trip insurance only covers nonrefundable trip costs. In addition, the majority of trip insurance policies exclude coverage for reservations made with airline miles or hotel points.
When submitting a claim, you will be required to provide proof of your loss. For instance, you should provide proof of the issue's origin (e.g., flight delay or cancellation) and copies of your receipts to support your claims.
As there are numerous potential types of losses, your claims process may vary by insurance provider and type of loss.
The time frame from when you file a claim to getting reimbursed could take several weeks in extreme cases.
Learn how travel insurance claims are processed.
How to buy travel insurance coverage?
There are three primary ways for travelers to buy travel insurance coverage:
Purchase a standalone policy: you can purchase travel insurance from an agent, tour operator, or directly from an insurance provider or a marketplace. The advantage of purchasing travel insurance coverage from a marketplace is that you can compare several plans and buy one that suits your needs
Utilize travel card benefits: if your credit card extends coverage if you make your upcoming trip booking and pay for the total trip cost or part of it from the card, utilize the benefit and understand what is covered and what is excluded from the coverage
Utilize Health Insurance benefits: Select a few health insurance plans in your home country that may provide coverage overseas. If your health insurance plan provides such a benefit then utilize it to the full extent. For example, ICICI Lombard Health Insurance in India offers worldwide coverage as a benefit under their Health AdvantEdge Plan Royal Plus, Apex Plus, if the sum insured, is over Indian Rupees 1 million or 2.5 million respectively.
Add coverage when booking a trip: you can add coverage to your trip and get trip insurance including trip cancellation, and trip interruption coverage.
Pro-Tip: we recommend that you Quote, Compare, and then Buy travel insurance from an online marketplace, it gives you an edge to compare plans and get one that best meets your needs.
No matter which way you buy insurance, ensure to read the policy document and buy the right coverage for your specific needs.
How to Select a Travel Insurance Policy
Choosing the right travel insurance can be difficult, especially when there are numerous options available. To make things easier for you, here's how to select a suitable travel insurance policy –
1: Conduct research
Do not wait until the last minute to choose a travel insurance plan. Along with your trip planning, it is a good idea to look into different travel medical insurance options online.
2: Think about Travel Insurance Coverage
You should look for travel insurance that covers the following items.
Medical insurance for sickness or injury
Delayed or Lost baggage
Trip interruption and trip cancellation
Coverage for acute onset of a pre-existing condition
It is also critical to consider what is not covered by the underlying travel insurance policy. You will need to carefully read the insurance exclusions before you buy travel insurance.
3: Comprehend the Claim Settlement Procedure
Claim settlement procedures differ between providers. It is critical to be aware of how to file a claim and the claims-related procedures of your insurance provider.
4: Examine the Refund Policy
Your travel plans may change or be cut short at times. In such a case, it is best to have travel insurance that provides total trip cost protection.
How Can You Make the Most of Your Travel Insurance?
First and foremost evaluate if you want to buy Trip Insurance or Travel Medical Insurance. If you are taking a short vacation or cruise Trip Insurance with trip cancellation and trip interruption insurance with medical insurance can help. But if you are visiting a country like the USA then you should evaluate Travel Medical Insurance. Always purchase travel insurance that meets your specific needs.
To make the most of your travel insurance and ensure you are protected during a medical emergency read the policy terms and how to use the plan. For most insurance, while using emergency medical coverage benefits you may need prior approval from the insurance provider.
Emergency Medical Coverage like evacuation to a medical facility during a life-threatening situation can cost a lot and contacting the provider works in your interest.
Use the policy as per the terms defined and that ensures your claims process is hassle-free. Utilize all the benefits available under the plan and travel worry-free.
Do not delay
The best time to evaluate travel insurance plans and buy coverage is right after you finish planning your trip. Ensure you get coverage for your traveling companion and/or family member as well.
Read your plan documents thoroughly.
If you discover after purchasing travel insurance that you are dissatisfied with the coverage, you can request a refund. However, carefully review your plan documents because this request has a time limit of a few days within which you can ask for a full refund. You will not be refunded after the specified period has expired.
Contact Your Insurance Provider for Assistance
If you are unsure about a few terms and conditions in your policy, it is best to seek assistance from your insurance provider. The experts will clear up any confusion and guide you through the claim process.
When purchasing travel insurance, it is critical to conduct a background check on the insurance provider.
A good source to check the background is to read their reviews on sources like Trustpilot or similar reputed review sites.